PowerPro is designed to assist business owners with tracking and managing inventory. As items are sold, Units In Stock are automatically adjusted in real-time. Additionally, when new inventory is received into the system, with the click of a button stock levels are automatically adjusted real-time.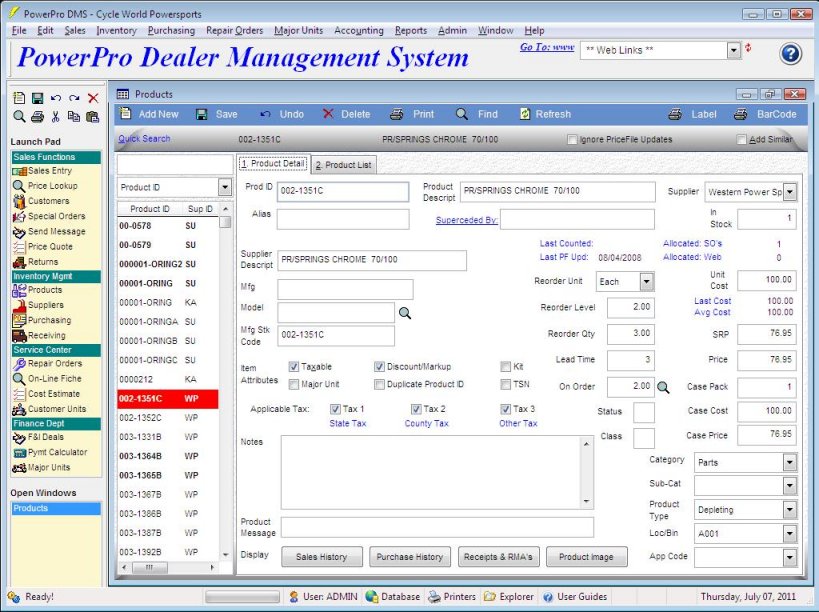 If the vendors you purchase inventory from make their price file catalog available in electronic format, SoftCom will convert this file into a format that is compatible with PowerPro so it can be directly imported. This saves a considerable amount of time when first establishing your inventory. Additionally, through our electronic price file subscription service, you can ensure your inventory costs and prices are always up to date.
The Products form allows you to enter and configure each inventory item. Keep in mind that much of this information will come from your supplier's price file. You can also optionally select an Image for each item and enter free-form text in the Notes field.
The Sales & Special Orders pushbutton will list every Sale and every Special Order on which a particular product has ever appeared. Never again will you not be able to determine which customer ordered or purchased a particular item. The same feature is available for product Receipts and RMA's. With PowerPro, its easy!
What about all those sales you lost because you didn't have a particular item in stock? PowerPro will track that for you and provides a report to let you know what items you should consider stocking and how many.
The Products form allows you to do many things such as:
| | |
| --- | --- |
| | Specify a Reorder Level, Reorder Quantity and the Reorder Unit |
| | Track how many items have been committed to Special Orders |
| | Track the quantity On Order and In Stock |
| | Indicate if an item is Taxable, a Duplicate, a Major Unit, or a Kit |
| | Specify a Location and a Product Category |
| | Specify if an item is Depleting. Non-Depleting items do not get reordered |
| | Specify a Product Message that is displayed whenever a product is sold |
In addition, PowerPro has the capability to perform mass price updates to all products or a subset of products. For example, you can easily increase or reduce the price of all products from a specific vendor by 10% with the click of a button.
For those special promotions, you can define a sales price for any item and also indicate a beginning and ending date. For the specified date range, PowerPro will automatically use the sales price and then revert back to the normal price once the sale date has passed.
When you receive inventory, you can print barcode labels and/or regular product labels for all items as they are entered. And, receiving inventory is a snap. PowerPro remembers what you ordered and how many of each item. When you select the Purchase Order to receive against (optional), each item is automatically added to the receiving ticket. If not all items are received at once, simply delete or zero-out those items.
It's easy with PowerPro!