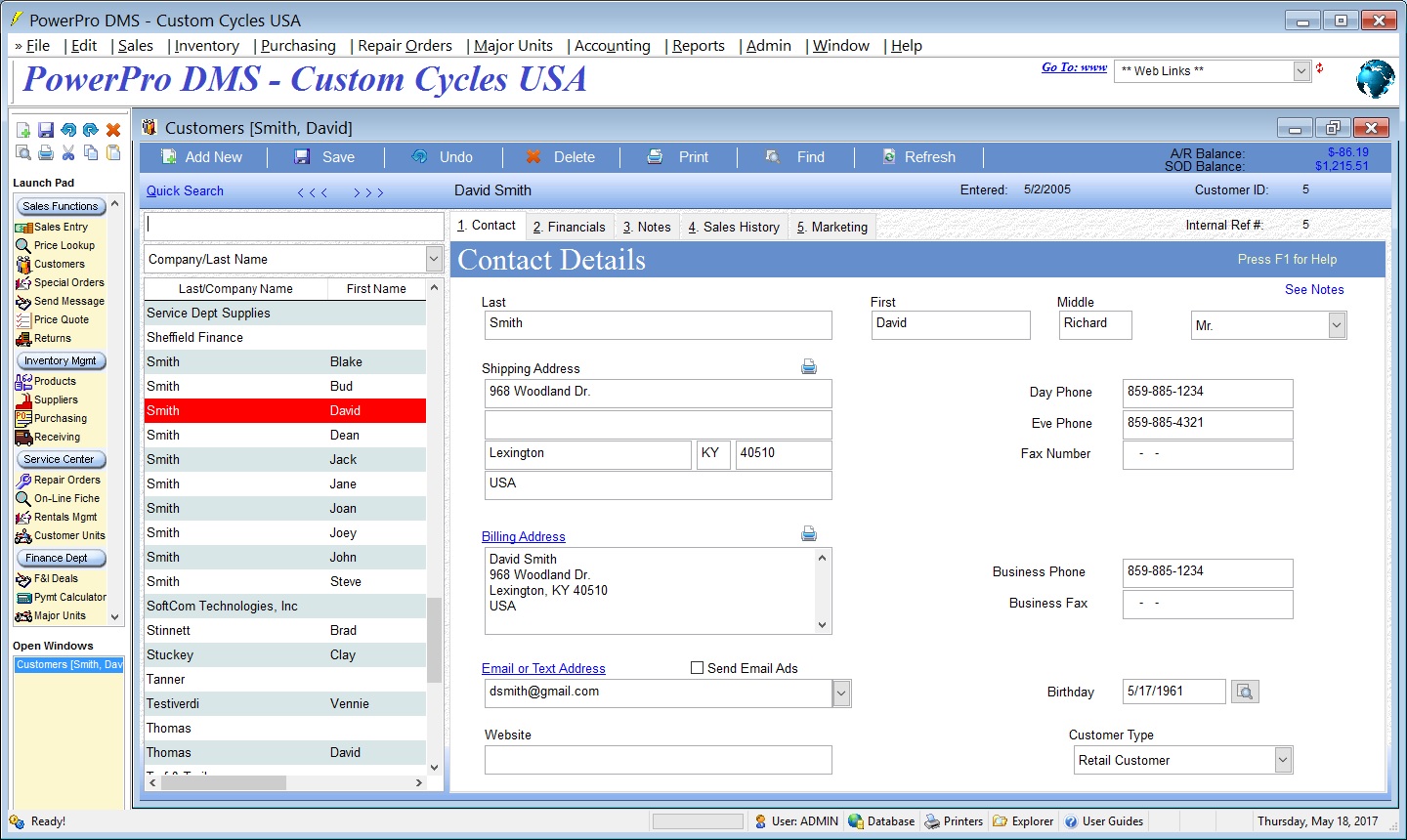 Customers are the life-blood of your business. PowerPro helps you with this critical asset via quick and easy Customer Relationship Management.
PowerPro allows you to maintain a database of all your customers so that you can easily track names, addresses, phone and fax numbers, an email address, tax information and more. When a sale is entered, the customer information is automatically placed on the invoice. The same is true for Repair Orders, Special Orders, Estimates, etc...
As you can see, the customer screen allows you to track many details about each customer. You can easily track both businesses and individuals from a single location. And, finding a specific customer takes only a few seconds with the quick search capability.
PowerPro tracks Financial Information about each customer including a Price Level for calculating discounts, Payment Terms, Tax ID, Deposit Requirement on Special Orders, and Charge Account data.
The Notes field allows you to enter an unlimited amount of free-form text about each customer. This can be anything you wish including alternate contact phone numbers and names, specific requirements when filling a customer's orders, a record of phone conversations, etc...
Under Sales History, you can quickly review every sale for a given customer, the total of each sale, and the grand total of all sales. This is very useful in determining how long a customer has been doing business with you as well as their volume of sales activity.
The Marketing section allows you to specify particular areas of interest for each customer which can in turn be utilized in promotional mail-outs and email marketing.
With PowerPro, managing your customers is easy!

Hot Tip
Send a Text Message to a single customer or to multiple customers!
Email an Invoice, Cost Estimate, Service Ticket or other information with ease. Save reports as PDF, Excel, etc...
To send a quick email, simply click the Send Message option on the Launch Pad.
Print mailing labels for all customers or a subset of customers as needed.

System Maintenance
Applying updates to your Dealer Management System is crucial. When evaluating a DMS, ask about downtime that may be required when updates are applied.

This includes such items as:
- Price File Updates
- Database Updates
- Program Updates
- Adding new reports
- Applying fixes
- Adding new F&I Contracts, etc...

With PowerPro, performing these crucial tasks is relatively simple and quick. Some of them can be accomplished with no downtime. Those tasks that do require downtime are performed after hours by our technical support professionals. This helps minimize the impact to your daily business activity.

Don't forget to research this vital function before choosing your Dealer Management System. It is also prudent to speak with existing users about their experiences in this area.

Our customers will confirm that PowerPro is reliable and easy to maintain.


Copyright [2021]
[SoftCom Technologies]
All rights reserved