Here we see one possible PowerPro configuration. This configuration can be scaled up or down based on your needs.
Typically, the Sales Counter terminals will utilize Bar Code Scanners (optional) and a Cash Drawer (optional). Additionally, the MicroFiche Interface Module allows PowerPro to interface with PartSmart, Parts Manager Pro, HLSM, and various On-Line Parts Fiche. The Electronic Purchasing Module interfaces with Honda, Yamaha, Suzuki, Kawasaki, BRP, Arctic Cat, Parts Unlimited, Tucker Rocky, Western Power Sports and others.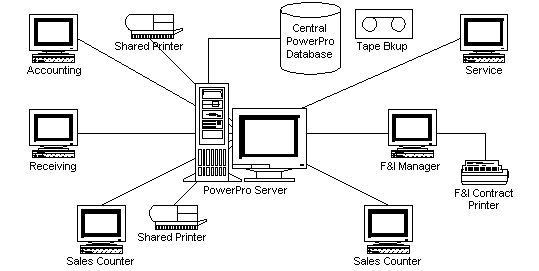 A dedicated server is not required unless you have 10 or more users. Each situation is different. We analyze your needs and circumstances and offer suggestions on hardware setup. For better reliability, we recommend the server and workstations be a name brand system such as IBM, Lenovo, Dell, HP, etc...
You will need at least one laser or ink jet printer for invoices and daily reports. You can also use a 40 character receipt printer if desired. If you utilize the F&I Module (highly recommended), we suggest the F&I printer be an OkiData 390 or OkiData 320.
PowerPro can be configured to run On-Site or In-the-Cloud. Running In-the-Cloud is useful for easy access from anywhere and anytime. It's also one way to link multiple locations!
Let PowerPro help propel your dealership into The 21st Century.

Hot Tip
PowerPro can be implemented in various configurations to meet your specific needs.

It can be setup to run On-Site or In-the-Cloud!

We will explain the various options and help you decide which approach best fits your needs.

It's easy with PowerPro!

Extensibility
Extensibility is a very important consideration when evaluating any Dealer Management System. As it's name implies, this characteristic deals with extending or expanding a product's capabilities.

Questions to ask include:
1) How easily is the application enhanced?

2) Are new features, reports and queries easily incorporated into the system?

3) Is the vendor willing to listen to your requests and incorporate them into the product?


Copyright [2021]
[SoftCom Technologies]
All rights reserved